My next target for our local food dinners is pasture raised meats. Maybe because I've been focusing on seafood for much of the past few months, it seemed time to unleash the inner carnivore. Here on the farm we have a policy that we don't eat our pets. Luckily my neighbors oblige us by raising some of the best meats around and allow us the privilege of buying and using their products.
Menu:
Saturday, June 19, 2010
Pasture-raised Cowichan Valley Meats
Grilled chicken skewer with a Jamaican walnut pesto
Beef tenderloin Carpaccio with roast garlic and blue cows milk cheese
Chinese-style BBQ pork salad with morel mushrooms and Asian vegetables
Duck and barley soup with a smoked chickpea crouton
Local salt and Grand Fir needle crusted lamb with maple-bean casserole
Lavender shortcake with local berries and cream
$90 / person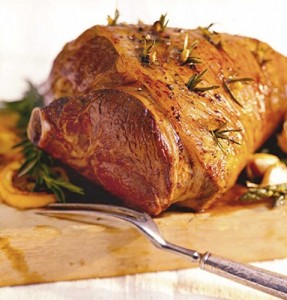 I'm very excited to be getting a new BBQ in time for this event. I've opted for a Traeger pellet smoker BBQ, after borrowing one from my Don Genova. Don and I put on a class last year called BBQ with the Masters, we brought over his grill and he let me use it over the next month. It was very difficult to give it back. The Traeger uses compressed pellets of sawdust to efficiently create heat and smoke for an unbelievable end result. It leaves food moist and smokey without many of the harmful by-products of traditional BBQs. It probably made the best chicken I've ever eaten.
My main application will be to roast a leg of lamb (or two) in the smoker BBQ. This should make a great dish for the evening. I also found a couple doing local salt here in the valley and plan to use it to coat the lamb with sea salt and Grand Fir needles. This dish will be served with a side of navy beans baked and flavoured with Big Leaf Maple Syrup (Mountain View Farm) and a smoked ham hock.
The menu will include chicken, duck, beef and pork – all my favorite food groups. Hopefully the cool spring weather will end and we can harvest some of our local strawberries. The local crop is suppose to be available just as the dinner is being held!
Bill