It was early on in my mushroom career that I was introduced to the morel. Hiking in the foothills of the Rockies, probably searching after an elusive brown trout stream, I saw a mass of spongy spear heads rising from a mossy bank. I knelt down for a closer look and marveled at the textured surface of the fungi. My exposure to mushrooms up to this point had been an affinity for cooking the store-bought buttons with a nice chunk of steak. My then recent foray into a vegetarian diet had ended badly – at a BBQ fueled on by too many beers and a rack full of grilling pork ribs. I remember guiltily ending the day covered in sauce and pork fat. This discovery of the morels was however not fueled by culinary motives. I was at first repelled by the shape, the brain-like structure and the foreign look of these organic objects. In my stupor, I left them in the field but managed to look them up in a guidebook when I got home.
In my local gourmet store, I found a pack of dried morels and tried them in a classic French preparation. I cooked a chicken in white wine, cream, garlic and leeks and added the morels after soaking. Sitting down with my room mates we tried the dish with a little anticipation mixed with a little trepidation at the brown "objects" we were about to consume. The taste was a revelation, earthy, pungent, hints of caramel and smoke rippled around my tongue. The morel opened my eyes to the possible worlds of mushrooms and taught me a valuable lesson on the deception of appearance. It was a big step in the evolution of my relationship with food.
It took me about 20 years to find my next morel. I guess I was sidetracked by careers, education, chanterelles and porcini. Living in Vancouver kept the morels off my foraging radar. Once I started to explore my new surrounding after moving to Vancouver Island, I began to unearth tidbits about morels that peaked my curiosity. One of the largest white specimens of morel was found on Southern Vancouver Island, morels like the old orchards of the Cowichan Valley, morels like the south facing slopes early in the spring. These were all great tips but the elusive morel still eluded my grasp. One day I was walking by our old campfire area on the farm. I looked down and saw about 20 morels poking up from the ash. I was stunned to find them right under my nose. Looking around the valley, I found several other clumps of morels all appearing at the same time.
In the woods, the morel looks frustratingly like a pine cone stuck in the forest floor. Once you've found one you start to get the hang of it. They blend so well into the environment they can sometimes be maddeningly difficult to find. It took me many years to key into the cream-white stem of the fungi (not the camouflaged cap) before I had any real success. The time frame can also be a very narrow and movable window for the morel. I began to look at other plants for indicators of morel time and settled on two local plants, the vanilla leaf plant (Achlys tryphilla) and the flower of the trillium (Trillium ovatum) as good indicators of the timing for the morel. The cooking part was relatively easy after that epic 20 year journey!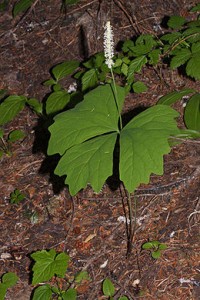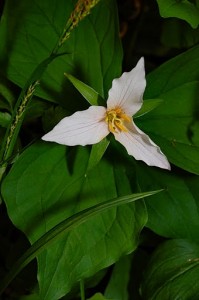 Saturday, April 17th
Morel Dinner Menu
Tarte Flambe with morels, fresh cream cheese and air-dried beef
Country Ham Pate with morel mushrooms and new onions
Braised morels stuffed with chorizo and olives
Spring Salad with wild greens, morel and maple candied salmon relish
Canard au Vin (braised duck) with morels and pinot noir, duck potatoes
Rhubarb and candied ginger upside down cake with spiced crème fraiche
$90 / person
Classes:
April 24 – Wild foods and morel mushrooms (forage and demo)
This class is a special forage and demo class. We will take a walking tour of the farm and the Trans-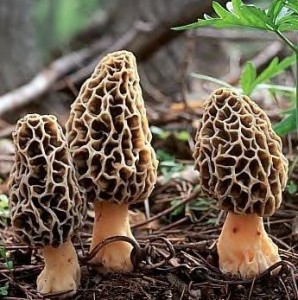 Canada Trail to look at Springtime wild foods found in our region. Depending on Mother Nature (always fickle) we will explore the local habitat for morel mushrooms. The window for this mushroom is a narrow one locally so we work with the conditions we are dealt. Regardless, we will have fresh and dried morels on hand and will showcase these morsels in a number of dishes that can be easily executed at home. The class includes a sampling of wilds foods and mushrooms. Vegetarian options are available if can you let me know in advance – otherwise I'm sure a little bacon and seafood will figure in the tasting somehow.
$100/person
12:00 noon – 5:00 pm
Call Bill (250) 748-7450 for reservations and info