Saturday, May 7th, 2o11
Cooking with Morel Mushrooms (Mother's Day Weekend)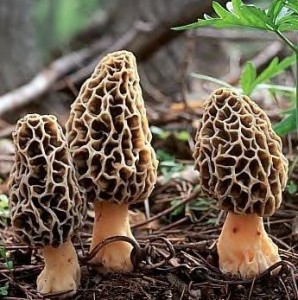 We love our morel mushrooms around here! We wait patiently all through the winter until the first blossoms of spring – then we start hunting for these delicious culinary treats for our own table and to delight our students. This class looks at Morel mushrooms in all their glory. The morel is found around the world and our class reflects the eclectic nature of the many ways morels can be prepared. This class is a rare and special treat.
Morel Mushroom Primer: types, habitat, foraging basics
Care and handling of morels – dry and fresh
Alsatian tarte of caramelized onions and morel mushrooms
Stuffed morel mushrooms with local spot prawns in a Japanese sauce
Leek and potato soup with morels and bacon
Morel, chicken and spring greens sauce with whole wheat pappardelle pasta
This is a demonstration class that includes cooking demo, recipes and tasting portions.
Note: Vegetarian versions of the recipes available if requested in advance
$100/person (plus Tax)