Our next event at the farm is a Dinner on November 21.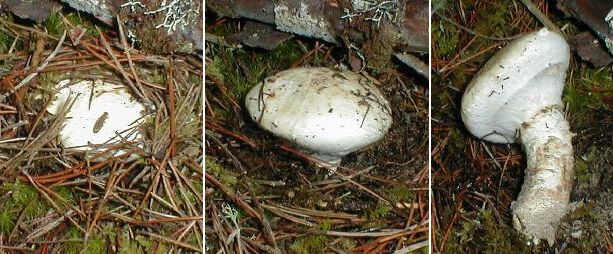 We will feature Pine Mushrooms in all their glory. The Pine is also called the Matsutake and is related to the famed Matsutake of Japan (same aroma and flavour with a fatter shape).
The pine is renown as a culinary and medicinal mushroom with reputed positive effects on the circulatory system. The texture is firm with a spicy, mild radish odor. They are definitely one of my favourite mushrooms and I sometimes dream of the intoxicating aroma when they are not abundant. Once you have smelled the mushroom in the forest you'll know why we love to hunt for pine mushrooms.
Our menu will feature dishes that highlight the aroma and texture of these wonderful mushrooms. Please join us for the next dinner event.
Saturday, November 21, 2009 (Masutake Feast)
Pine Mushroom Dinner
Grilled quail rolls with pine mushroom and apricot compote
Soba noodles with pine mushroom and squash salad
Rice congee with pine mushrooms, braised greens and spice braised duck
Roast leg of lamb with a pine mushroom stuffing, served with roast vegetable polenta cake
Blackberry, mint and chocolate cake with pine mushroom ice cream
$90 / person including recipes
Please go to www.magnorth.bc.ca for more info