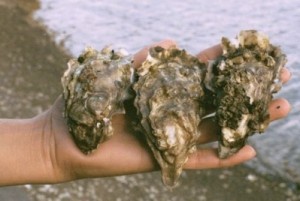 I was mulling over a menu to launch my farm dinners in February. The date happened to fall around Valentines Day and I initially started with the potential theme of aphrodisiacs. Thinking a little further about the topic, I decided on some base level we are really talking about food that sets the mood or indeed affects your mood. The effect of food on the human body has always been an interesting topic for me. It intrigues me that food can be used as a source of energy, pleasure, medicine and even consciousness alteration (hello magic mushrooms!).
Modern research has some practical reasons for the way food alters our bodies, but that is just part of the story. The act of eating involves all of the senses – sight, smell, touch, taste and even hearing can play a role in the process. The act of sensual eating basically uses all the faculties we have available to be alive and experience the moment we are in.
Consider the oyster. The scientist might say the oyster contains zinc and selenium which aids in the arousal of certain nether regions. The visualist might say the appearance is alluring and pointedly suggestive of certain denizens of these nether regions (like how I skate, Sedin like, around the vulgarities?). The hedonist would appreciate all of the above and revel in the sensual textures and taste of the oyster – particularly slurped on the half shell. The oyster is without a doubt a sensual food and the act of eating it affects the parties in ways that are both obvious and unseen in the brain and stomach.
My main point is that participation and perception is a big part of creating happy dining. A key part of any enjoyable meal and indeed happiness is sharing with people you care about or have a connection – even without going all "nether region" on them.
This lead me to take all of the suggestions of the aphrodisiac quality from the menu (whew, the pressure is off) and focus on foods and preparations that are associated with happy pleasurable sensations. In my mind these involve some simple ingredients and some more expensive treats like truffles and saffron that are reputed to be mood altering substances. They also focus on ingredients that are known to increase serotonin (a neurotransmitter often called the happiness hormone) levels in the brain believed to facilitate feelings of pleasure in us all. These foods include fun things like chocolate and coffee but are also present in eggs, wild mushrooms, wild seafood (particularly with high Omega 3's), buckwheat, walnuts, seaweed and flax seeds.
With this diverse pantry in mind I developed the following menu to be presented on Febuary 12th, 2011. Find someone to share a great meal with and come join in our social experiment.
Happiness Dinner Menu
Flax seed crackers with smoked sablefish brandade
Candied walnuts and goats cheese tartlets
Buckwheat (Soba) noodle salad with seaweed, pine mushrooms and Albacore tuna
Oyster chowder-flavoured custard with winter salad, parmesan crouton
Saffron risotto with coffee braised venison and porcini mushroom sauce, fresh truffle
Valrhona Chocolate and hazelnut tart with truffle-honey ice cream
Saturday February 12th
5:00 pm – 9:00 pm
$90/person (plus tax)
Subsitutions are available (ie. Meat free) if you call in advance
For Reservations call 250 748-7450
Bill@magnorth.bc.ca