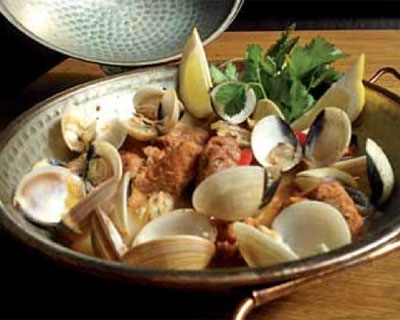 Sat. Feb. 16th – Farm to Table Dinner
Happiness Dinner 2013
A dinner dedicated to foods that boost your serotonin levels. Serotonin rich foods are thought to create a sense of well-being and contentment.
5:00 pm — 9:00 pm
canapes:
Duo of Oysters, baked with truffles and fresh with wasabi
Smoked Venison loin with chocolate chutney
plates:
Soup of roasted celariac with air dried  apples, dungeness crab and local brie souffle
Salad of roasted mushrooms with a blue cheese dressing, local walnuts and flax and potato bread croutons
Portugese-style local clams and braised pork shoulder in a spiced rosemary tomato broth. Served over a bacon and tomato polenta
Lemon tarte with ice wine meringue, orange-chocolate creme anglaise
Cost is $90/ per­son (plus Tax)
call 250 748‑7450 for details or reservations.