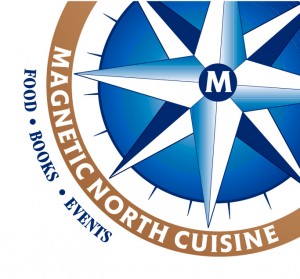 Consulting is a sometimes intimidating word. Many people equate it with expense. Wise people equate it with investment. The fastest track to any positive result is to learn from someone who has been there in the past. The keys are to respect that past, learn from mistakes, embrace the positive, work hard to succeed and try to have a little fun along the way.
Bill Jones is the chef, owner and principal consultant with Magnetic North Cuisine. For the past 19 years he has worked on hotels, restaurants, coffee bars, wine bars, bakeries, marketing initiatives, community health projects and business start-ups. He tries to help people with a wide variety of projects, experiences, budgets and goals. Community building is a foundation of what we do.
He is knowledgeable in all aspects of start-up, construction and operational management of food and wine businesses.
Bill's scientific background in geology and engineering have given him a strong foundation to build on his work in the local food community. He uses these skills to bring creativity and efficiency to his projects and has built a reputation for his quality of results, organizational skills and attention to detail.
"Our work generally revolves around the themes of sustainability, local products and artisan handcrafted products. We are active participants in our community and believe it's our duty to give back to those who are in need or less fortunate than ourselves. We do this through our volunteer and community building efforts, workshops, training programs and consulting projects."
Bill also helped develop and coordinate many of the great festival and fund raising events in the region – including Feast of Fields, The Cowichan Bay Spot Prawn Festival, Chefs in The Market (Granville Island), Northern Bounty (Vancouver), Duncan Earth Day Festival and the recent 2nd Canadian Chefs Congress.
Along the way Bill has written award winning books (12 and counting), taught thousand of students, fed crowds of people, designed restaurants, built commercial kitchens and created a variety of retail spaces featuring local hand-made products. He has also developed wine lists and beverage programs for a variety of successful businesses.
Each project is unique and we would be interested in exploring ways to work together. We realize that everyone has different needs and budgets and we would be happy to offer a no cost initial evaluation of your situation.
We offer:
Business Planning and Development Services
Design and Build Consulting
Management Consulting
Training and Problem Solving
Recipe and Product Development
Food and Wine Systems and Control
Marketing, Web and Social Media Consulting
Food and Wine Event – Development and Coordination
Local food and wine is important to us and we try to encourage the start up of quality driven new producers – where ever possible. Let us help. Don't be afraid to contact us. Some of our advice is even free!
Please reach us at:
Bill Jones
(250) 748-7450
– or through the contact form at the base of the page
Past Key Clients:
BC Salmon Marketing Board
BC Seafood
BC Wine Institute
Cowichan Bay Seafood
First Power
Granville Island Public Market
King Pacific Lodge
Van Dusen Botanical Gardens
Vancouver Coastal Health
Whitecap Books
Wine Islands Vintners Association
Underwater Harvester Association
plus dozens of small businesses and non-profit organizations
[CONTACT_FORM_TO_EMAIL]