Now available at most major booksellers, also available as e-books.
www.amazon.ca     Mushroom Book       Foraging Book     Vegetable Book
www.chapters.indigo.ca     Mushroom Book       Foraging Book   Vegetable Book
…………………………………………………………………………………………….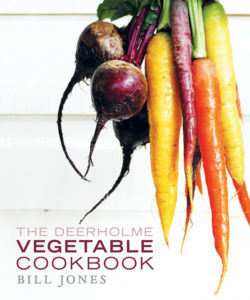 The Deerholme Vegetable Bool (Touchwood Editions 2015)
Vibrant, diverse, and unexpected vegetable recipes from award-winning chef Bill Jones that will revitalize your approach to plant-based eating.
Roots, stalks, shoots, bulbs, brassicas, and leafy greens―vegetables come in all shapes and sizes, flavours and colours, tastes and textures. Whether you grow or forage them yourself or purchase them from local farmers, you will find an abundance of local vegetables available wherever you live. And this book will provide you with exciting and unexpected ways to prepare all of that goodness from the garden. These are everyday plant-based recipes that respect the seasons.
From renowned chef and award-winning author Bill Jones, these recipes are a love letter to vegetables, inspired by his travels and experiences. In addition to the recipes, he provides detailed information on more than 40 vegetables, outlines the basics of professional vegetable preparation, explains how to source good-quality vegetables, and suggests ways to store different kinds of veggies to keep them fresh.
………………………………………………………………………………………………………………………………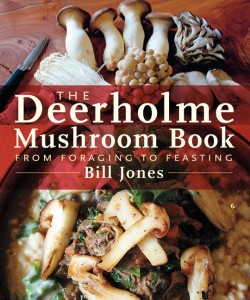 The Deerholme Mushroom Cookbook From Foraging to Feasting
by Bill Jones
Mushroom Book Overview: Expand your culinary knowledge of wild and cultivated mushrooms with this comprehensive cookbook by award-winning writer and chef Bill Jones. Learn from an acknowledged expert in the field of wild foods how to source mushrooms through foraging, shopping, and growing, and get a thorough overview of the common types of wild and cultivated fungi. Gain insight into the medicinal and cultural uses of mushrooms, and reap the health benefits of simple, unprocessed food.
Delicious recipes for basic pantry preparations, soups, salads, meats, seafood, and vegetable dishes, all featuring mushrooms, include: Truffle Potato Croquettes; Mushroom Pate; Porcini Naan; Semolina Mushroom Cake; Beef Tenderloin and Oyster Mushroom Carpaccio; Curried Mushroom and Coconut Bisque. The Deerholme Mushroom Book is every chef's essential guide to edible mushrooms.
---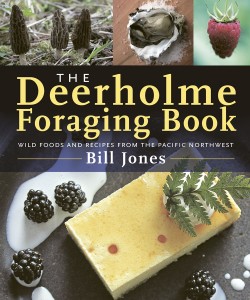 The Deerholme Foraging Book Wild Food and Recipes from the Pacific Northwest
By Bill Jones
CDN $29.95                                          Touchwood Editions Catalogue link
Foraging Book Overview: The Deerholme Foraging Book is an exploration of the wild foods found in the Pacific Northwest. It is written by award-winning chef and author Bill Jones and features local mushrooms, edible plants, sea vegetables, and shellfish. The book is the product of twenty years of research and professional cooking with foraged foods. It serves as an introduction to the world of wild food and contains identification and sourcing information, harvesting and preparation tips, and more than one hundred delicious recipes featuring many types of wild foods. The recipe list includes techniques for preserving food and covers basic pantry preparations, appetizers, soups, salads, and desserts, as well as meat, seafood, and vegetable dishes. The recipes are global in influence and use simple techniques woven in with expert knowledge to create good, homemade food.
Linking to traditional uses for wild foods and future possibilities for our diet and wellbeing, as well as enhancing our appreciation of the environment around us, The Deerholme Foraging Book also includes an index, a bibliography, full-colour photos of wild foods and dishes, and Jones"s own foraging stories.
Call or email us to order a signed copy
Bill
250 748-7450