Farm to Table Din­ners, Events and Classes
Deer­holme Farm has delighted food lovers for the past 8 years. In that time we've cre­ated orig­i­nal dishes for local food din­ners, cook­ing classes and many regional events. We fea­ture local food from the Cowichan Val­ley and offer Farm-to-Table cuisine.
Our dishes are cre­ated specif­i­cally for each event and are based on sea­sonal prod­ucts and a global style  of food;  often blend­ing Euro­pean and Asian tech­niques. We post new events through­out the year. Click on an event in the right hand col­umn for more details. Sign up for our newslet­ter to get updates deliv­ered to your inbox.
Gift Cer­tifi­cates are available
We offer:
Local Sea­sonal Food Events (mush­rooms, French coun­try cook­ing, etc)
Hands-on Cook­ing Classes
Wild Food For­ages in the spring and fall (mushrooms)
Off­site Cater­ing for selected events
Food and Wine Con­sult­ing and Advice
Food Writ­ing and Photography
Bill Jones is the owner / chef who has an amaz­ing array of expe­ri­ences behind him. Bill has cooked in Michelin-starred restau­rants in France and Eng­land. Locally he is a renowned expert on the foods of the Pacific North­west. His spe­cialty is wild foods from the for­est, fields and oceans.
Jones is a leader in the local food move­ment. He is involved with many busi­nesses and non-profit ini­tia­tives that pro­mote the region and encour­age sustainability.
Bill is the author of 10 books and a busy teacher and wild food expert. In the spring of 2013 Bill pub­lished  The Deer­holme Mush­room Book (Touch­Wood Edi­tions, 2013). This book has been acclaimed as an instant clas­sic and is filled with great recipes, tips and infor­ma­tion on wild and cul­ti­vated mush­rooms. Order your signed copy from us.
In the spring of 2014, Bill will pub­lish a sec­ond book, the Deer­holme For­ag­ing Book, wild foods and recipes from the Pacific North­west (Touch­wood Edi­tions, 2014).
Mag­netic North Cui­sine is his con­sult­ing side. Projects include sus­tain­able busi­ness devel­op­ment, com­mu­nity eco­nomic devel­op­ment and local food busi­ness start-up. We also cre­ate and man­age events includ­ing the Cowichan Bay Spot Prawn Fes­ti­val; helped start Feast of Fields and helped man­age the 2010 Cana­dian Chefs Con­gress at Prov­i­dence Farm.
•••
Our din­ners, in par­tic­u­lar, have been pro­filed in out­stand­ing pub­li­ca­tions such as Gourmet Mag­a­zine, Saveur, Har­row­smith, Travel & Leisure and fea­tured in many other promi­nent media outlets.
•••
Media High­lights:
"… Jones is pas­sion­ate about the island and seems to know his environment's every plant, his­tory and anec­dote. His enthu­si­asm and eru­di­tion are obvi­ous in the cook­ing at Deer­holme Farm. A recent meal, for exam­ple was an inter­pre­ta­tion of a pot­latch, the tra­di­tional feast of the indige­nous peo­ples. … Full of flavours, it was a sur­pris­ing meal, but then, this area is full of sur­prises." Gourmet Mag­a­zine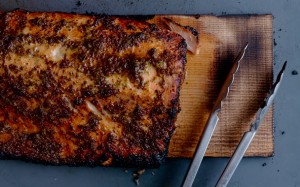 Recipe for Bill's Cedar Planked Salmon from the Gourmet Mag­a­zine article
" There's no doubt that this is one of the best entries into the bur­geon­ing Cowichan Val­ley food com­mu­nity – a chance to taste the finest local food in the land, along with some fas­ci­nat­ing com­pany. It's a mag­i­cal lit­tle place – and it's not just the mush­rooms."      The Globe and Mail
"… if Bill Jones is host­ing one of his monthly themed din­ners, book ahead at Deer­holme Farm. Jones, a supremely tal­ented chef, is also a pas­sion­ate for­ager, and wild mush­rooms are often the high­light of his tast­ing menus, served in his cozy farm­house. Work­ing with a sin­gle sous-chef, Jones puts a French and Asian spin on farm-to-table cook­ing: a recent meal included a Chinese-style duck with hoisin sauce made from Deerholme's own squash, and a hen-and-egg dumpling soup infused with fresh gin­seng and wasabi from the gar­den." Travel and Leisure
.…..
Please explore the site and get back to us with any ques­tions. Sign up for the newslet­ter for updates and go to our Face­book fan page to send us some love!
Events are on selected Sat­ur­days through the year.

We are open by appoint­ment only
Fill out the form below to con­tact us: