Farm to Table Dinners, Events and Classes
Check out our latest newsletter here, sign up on the right side of the page.
Upcoming Winter 2015:
Happiness Dinner 2015 - Feb 14th 2015 – Our annual tribute to foods that increase the levels of serotonin in the brain – thought to contribute to feelings of comfort and well being. We will feature foods rich in these components like oysters, nuts, truffles and chocolate.
Island Shellfish Class – February 28th – Learn the types and sources of local shellfish. Cooking with oysters, mussels, clams and scallops.
Spring Foraging Workshop – March 14th – learn how to identify and forage for Spring wild foods. Including Morel mushrooms
Spring Equinox Dinner – March 21st – A celebration of the first day of spring featuring wild foraged food, dungeness crab and local delicacies.
Spring Foraging Workshop – March 28th – learn how to identify and forage for Spring wild foods. Including Morel mushrooms
We have events planned for each month of the year. Please contact us for more info. We also do many private events – cooking classes, workshops, dinners and catering. Contact us below for more details.
Deerholme Farm has delighted food lovers for the past 9 years. In that time we've created original dishes for local food dinners, cooking classes and many regional events. We feature local food from the Cowichan Valley and offer Farm-to-Table cuisine.
Our dishes are created specifically for each event and are based on seasonal products and a global style  of food;  often blending European and Asian techniques. We post new events throughout the year. Click on an event above for more details (as available). Sign up for our newsletter to get updates delivered to your inbox.
We offer:
Local Seasonal Food Events (mushrooms, French country cooking, etc)
Hands-on Cooking Classes
Wild Food Forages in the spring and fall (mushrooms)
Offsite Catering for selected events
Food and Wine Consulting and Advice
Food Writing and Photography
Bill Jones is the owner / chef who has an amazing array of experiences behind him. Bill has cooked in Michelin-starred restaurants in France and England. Locally he is a renowned expert on the foods of the Pacific Northwest. His specialty is wild foods from the forest, fields and oceans.
Jones is a leader in the local food movement. He is involved with many businesses and non-profit initiatives that promote the region and encourage sustainability.
Bill is the author of 11 books and a busy teacher and wild food expert. In the spring of 2013 Bill published  The Deerholme Mushroom Book (TouchWood Editions). This book has been acclaimed as an instant classic and is filled with great recipes, tips and information on wild and cultivated mushrooms. In April of 2014, Bill published a companion volume The Deerholme Foraging Book (Touchwood Editions). This book focuses on the world of wild foods and wildcrafting with recipes based on mushrooms, plants, sea vegetables and shellfish.
Order your signed copy from us.
Magnetic North Cuisine is his consulting side. Projects include sustainable business development, community economic development and local food business start-up. We also create and manage events including the Cowichan Bay Spot Prawn Festival; helped start Feast of Fields and helped organize and coordinate the 2010 Canadian Chefs Congress at Providence Farm.
•••
Our dinners, in particular, have been profiled in outstanding publications such as Gourmet Magazine, Saveur, Harrowsmith, Travel & Leisure and featured in many other prominent media outlets.
•••
Media Highlights:
"… Jones is passionate about the island and seems to know his environment's every plant, history and anecdote. His enthusiasm and erudition are obvious in the cooking at Deerholme Farm. A recent meal, for example was an interpretation of a potlatch, the traditional feast of the indigenous peoples. … Full of flavours, it was a surprising meal, but then, this area is full of surprises." Gourmet Magazine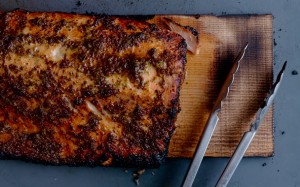 Recipe for Bill's Cedar Planked Salmon from the Gourmet Magazine article
" There's no doubt that this is one of the best entries into the burgeoning Cowichan Valley food community – a chance to taste the finest local food in the land, along with some fascinating company. It's a magical little place – and it's not just the mushrooms."      The Globe and Mail
"… if Bill Jones is hosting one of his monthly themed dinners, book ahead at Deerholme Farm. Jones, a supremely talented chef, is also a passionate forager, and wild mushrooms are often the highlight of his tasting menus, served in his cozy farmhouse. Working with a single sous-chef, Jones puts a French and Asian spin on farm-to-table cooking: a recent meal included a Chinese-style duck with hoisin sauce made from Deerholme's own squash, and a hen-and-egg dumpling soup infused with fresh ginseng and wasabi from the garden." Travel and Leisure
……
Please explore the site and get back to us with any questions. Sign up for the newsletter for updates and go to our Facebook fan page to send us some love!
Events are on selected Saturdays through the year.

We are open by appointment only
Fill out the form below to contact us: